Lenten Small Groups Are Underway!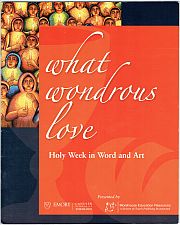 It's that time of year again!  Our 2017 all-church Lenten study, What Wondrous Love, is particularly apt for our times!  What Wondrous Love explores the biblical stories of the challenging last days of Jesus' life, concluding with the story of his betrayal, arrest and crucifixion.  In other words, the Bible passages of Holy Week point to our Lord's suffering, pain and death in a context of political unrest.
Our six-week-long small groups offer a great chance for folks to connect with other CPC people as well as with six biblical stories at the heart of our faith.  Each session will be introduced with a 6-7 minute DVD presentation for all led by Pastor Kim Rogers in Smoot Fellowship Hall, after which participants will go to their groups for reflection and conversation facilitated by small group leaders.  Participant books are $5.00.  Checks can be made to CPC.
Registration and book purchase will begin Sunday, February 5 in various locations around the church.  For questions, or comments (or to register!), please contact or .