SXSW
Since 2006, Central Presbyterian Church has been a venue for the SXSW Music Festival. Naturally, we're quite proud of the beauty of our space and the work done by our volunteers, but we really don't need to do any bragging – there are plenty of reviewers, bloggers, and general World Wide Web writers who do all the "bragging" that we need!
Central Presbyterian Church only has two rules for rockers who play its sanctuary as part of South by Southwest: Don't drink; and don't shatter the stained glass.
— CNN Belief Blog
March 20, 2011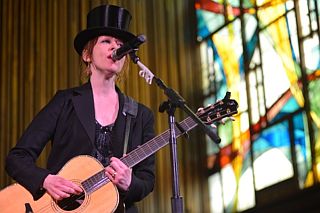 Suzanne Vega at Central Presbyterian Church
Photo by Sandy Carson
See also
original size
(600×400)
When the top hat goes on, the magic starts. Well, nearly. In the seemingly acoustically perfect Central Presbyterian Church, the stylishly chapeau'd Suzanne Vega had the traditional technical problems as she stop-started with brokenhearted "Marlene on the Wall."
…
As for Vega, she seemed a little thrown by the audience's overly-respectful responses. "You'd think we were in a church," she commented after polite applause for the drinking-song life-lessons of "Don't Uncork What You Can't Contain."
— Richard Whittaker
March 16, 2014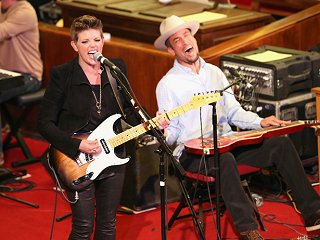 Natalie Maines and Ben Harper
at Central Presbyterian Church
Photo by
Mindy Best
See also
original size
(615×462)
My other highlight of the evening was Natalie Maines, who performed with her band and guest Ben Harper at the Central Presbyterian Church, the SXSW with the best sound, period.
— L. Kent Wolgamott
March 16, 2013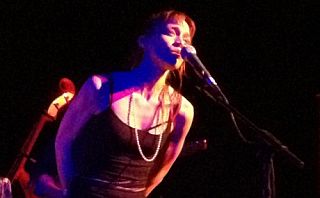 Fiona Apple at Central Presbyterian Church
See also
original size
(480×305)
After queuing for over an hour – it was the longest line I've seen this week – and a boiling, busy day, I, with amazing luck and a kind friend, managed to bag a seat in the front row of the Central Presbyterian Church, a legendary SXSW venue.
— Lucy Jones
March 16th, 2012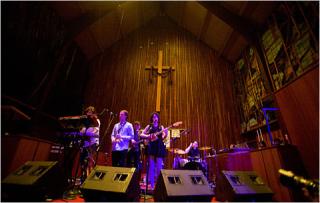 St. Vincent at Central Presbyterian Church
See also
original size
(480×305)
At South by Southwest, the Central Presbyterian Church is almost always going to be a tough ticket. The bookings are carefully curated, the acoustics are great and the space is finite. But it was a whole order of tough outside the M. Ward gig last night. Wristbands and badges, the coin of the realm here, were all nigh useless as a crowd surrounded the church like a moat. And as it turned out, there was good reason to try and fight your way in. The violinist and vocalist Anni Rossi, who was signed by 4AD Records out of Minnesota – embraced the churchy vibe, sending ethereal sounds up into the rafters as people sat quietly before exploding with applause. And the reverence went up a notch when M. Ward came out. A huge cross was the only splash of light in the dimly lit that demonstrated that all those great words come from a very musical place. On "Sad, Sad Song," he sang, "the hardest thing in the world to do is to find somebody believes in you." Less hard, it should be pointed out, when you are in a church full of believers.
— David Carr
March 19, 2009
---
Twittering in Church
True enough, the line wrapped around the block, and around 8 p.m. someone told the hordes that they'd have to wait three or four hours for a seat. Indie indignation! But a sign near the church entrance read "Open for Prayer," and maybe it worked, because midway through the night the crowd turned over, and new, still well-behaved people filled the pews.
— Melena Ryzik
March 19, 2009