Meet Katy Bedford!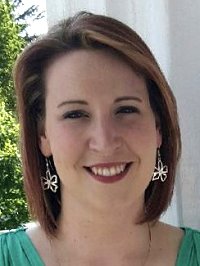 Dear Central Presbyterian Congregation,
I am extremely excited to begin this position as your interim Director of Christian Education. After learning some about you from various leaders in the church, I cannot wait to meet all of you! It is such an honor to be a part of your faithful and vibrant community.
Here is a little bit about me. I am a Presbyterian Church (U.S.A.) baby. My family joined First Presbyterian Church in Georgetown, TX 23 years ago and we have been there ever since. I learned early of the importance of growing up in a supportive and nurturing church community. In taking this position at CPC, I am following in the footsteps of my mother, who is the Christian Education Director at FPC in Georgetown. I shadowed her as a kid and helped her when I could. I value these moments immensely.
As a child, I participated in all the education programs and remember how formational they were for my faith. I remember the influence of my Sunday School teachers, bible study teachers, VBS crew leaders, and pastor in my faith development. As a product of a church with a pervasive Christian Education program, I know how crucial it is for a church community.
This past May, I graduated from Princeton Theological Seminary with my Master of Divinity and am pursuing ordination in the Presbyterian Church (USA). Attending seminary was not part of my plan until after I graduated from college. While on a mission trip with the youth from FPC in Belize, I experienced a call from God challenging me to pursue ministry. I accepted the challenge and have been on a road full of adventures and discoveries, most of which center around God's faithfulness and steadfastness through thick and thin.
I cannot wait to be a part of the growing experiences of your children and youth. I hope that the Christian Education team and I can provide them with opportunities to have fun while learning and caring for one another. In whatever context — SXSW concession stands, Confirmation, Youth Sunday, Easter Carnival, service projects — I look forward to witnessing the children and youth share their transforming faith with you, with me, with one another, and with all who they encounter. I am so grateful for this opportunity to share with you and learn from you!
In Christ,
Katy Bedford, M.Div.